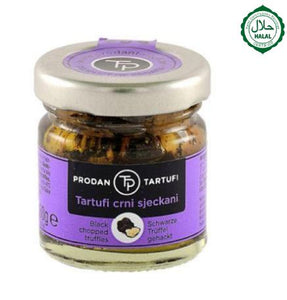 Flavorful, ideally on noodle dishes or stakes. 
In our region, depending of the seasonality, we can find a few types
of black truffles. During the summer season, we are hunting for Black
summer truffles – Tuber aestivum. In autumn time we can offer to our
customers Black autumn truffle - Tuber uncinatum. Through the
winter months we can also find two types of Black winter truffles in our
region – Tuber brumale and Tuber Melanosporum.
All our products are Halal certified
GMO FREE
PRESERVATIVES FREE